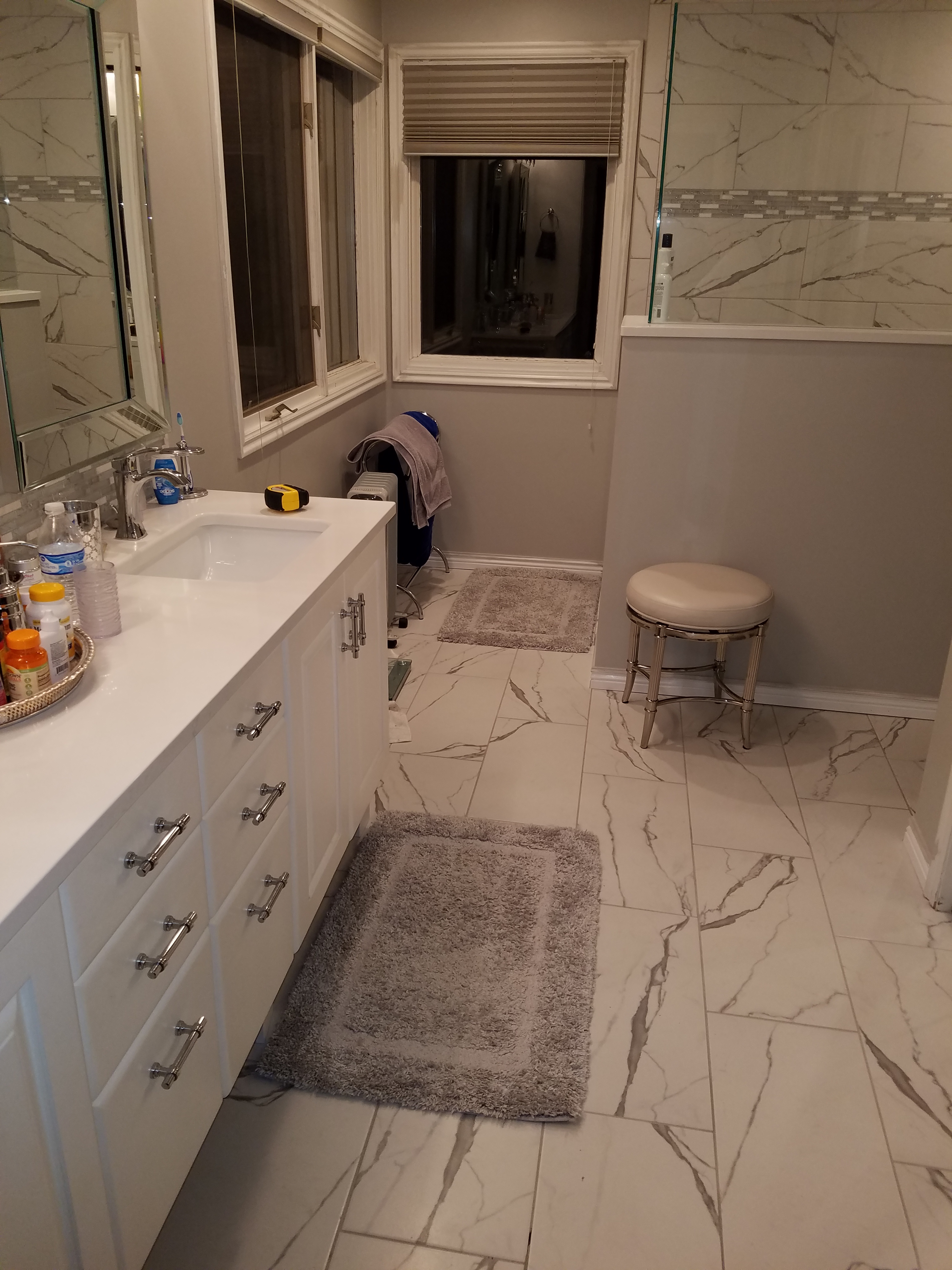 Your bathroom is a very personal space, one that is used daily. The decision to remodel this space should be made after careful consideration. In a lot of cases, homeowners want to take their ideas and do the remodel themselves. While this may sound like a fun idea, the decision to hire a contractor can be the best one you make for your bathroom remodel.
Here are 7 reasons you should hire a general contractor for your bathroom remodeling project.
Time: Time is an element that people grossly underestimate when they are beginning this project. The time spent remodeling a bathroom will be at least doubled if you are doing it on your own. Think about it, general contractors can spend 6-8 hours in a day focusing on that room. You, on the other hand have to go to work, take care of the family, spend time with the kids, sleep, and eat, leaving you very little quality time to spend working on the bathroom.
Electrical: Moving and adding light fixtures, adding power through outlets and switches, or moving outlets and switches all require an electrician to perform this work. This is not a part of the job you want to trust with YouTube videos or 'a guy you know'. It is crucial that your electrical work meet the code requirements, otherwise you risk malfunctioning and fire hazards.
Plumbing: The pipes in your bathroom are vital to the function therein. Any time a bathroom is remodeled the pipes and water flow will be affected. This is not a job you want to take on yourself. Leaking pipes create a myriad of problems not only in the bathroom, but throughout the house. A simple drip over time can cause damage and mold.
Shower and Tub: In line with plumbing, replacing your shower or tub is an intensive process. Finding the right fit, making sure the plumbing is in alignment and everything is sealed properly is essential for this process. Sealing a leaking pipe for a jetted tub with toilet paper does not work. Believe it or not, this is a situation we discovered, along with rotted subflooring, mold and water damage in the room underneath.
Flooring: Replacing the flooring in your bathroom requires movement of the toilet and quite possibly the vanity. More often than not, when the current flooring is removed the homeowner is faced with damaged subflooring, which creates another level of flooring to replace. Having a good, clean foundation for the flooring in the bathroom will ensure longer lasting, beautiful flooring.
Tiling: DIY shows and YouTube videos make tiling look easy, when in reality it is a process intensive project. Professional tilers make their jobs look flawless, because they have spent the time to center the tile, build out the pattern, have the right tools and utilize the best products. This is an area if mistakes are made, it is nearly impossible to cover them up.
Walls: Any time a wall is moved or repaired in the bathroom, there are extra steps required to ensure it is water-proof. This is an area of your home that moisture loves to accumulate, so it is essential that your walls can withstand this. Professionals understand the type of wall board that is moisture resistant and are skilled in hanging, mud and taping, sanding and texturing the walls. This is not a project for the faint of heart.
It is easy to watch a show and think, "Hey I can do that!" when in reality the process to remodel your bathroom is a very intensive project. There are a lot of details that are easily overlooked, but can become huge issues that can quickly break the bank and your bathroom. A contractor is skilled at identifying and fixing the inevitable uh-oh's ALWAYS come up in a bathroom remodel project.
Bathrooms are one of our specialties. We have great success in creating beautiful personal spaces that are also functional.
Let us show you how to complete your bathroom remodel.