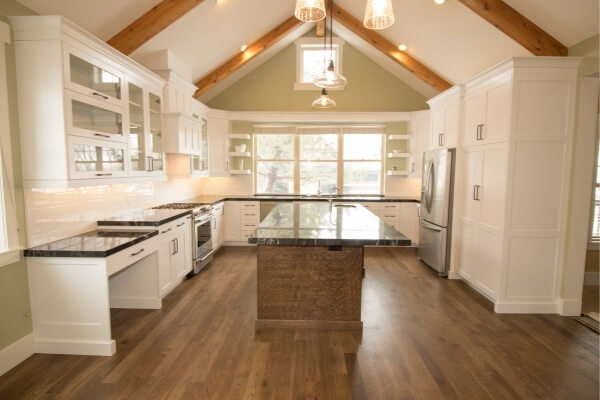 We have a lot of people call into our office and ask how much a kitchen or bathroom remodel will cost. Valid as these questions are, the reality is, we cannot give even a ball park estimate over the phone. Remodels are as unique as the house and the people who are asking for them. No two are the same.
Often, homeowners will watch a remodeling show and get good ideas for their space. Unfortunately, the cost and time expense on these types of shows is not fully divulged. This leaves homeowners with a false idea of how much the remodel will cost. Another great idea space is the internet, but again, the cost expectations usually are not reality when it comes to the grand scope of remodeling your space.
There are so many variables that go into the estimation of cost for remodel work. The budget of the homeowner is the main determiner of what the scope will be. A lot of times, people will call in to schedule an estimate without a budget in mind. They are looking to get an idea of what it will cost. This makes it difficult for the project manager to create an accurate estimate. Working in the scope of a budget allows them to design the remodel to fit the money available.
Levels of Remodeling
There are different levels of remodels which determine the overall cost.
Low-Range remodels are or of a cosmetic nature. They can involve new flooring, paint, some countertops and other basic elements.
Mid-Range remodels involve a higher quality win the work and what is available for the cost. There is more change involved at this level. There are more options with the materials, and the quality is a little higher.
High-End remodels are the homeowners who have a large budget to work with and want to gut their space to completely renew their space. This level of remodel provides the homeowner the opportunity to choose the highest quality of flooring, countertops, cabinetry, new plumbing, electrical work and carpentry.
If homeowners understand where they fall into these remodeling categories with their budget, it would allow the project manager to manage expectations within the design. Estimating involves understanding the homeowner, the uniqueness of their space, the design they desire and the budget scope they have to work with.
If you are ready to remodel your space and you have a budget in mind, give us a call we would love to schedule an appointment to bring your space to life.