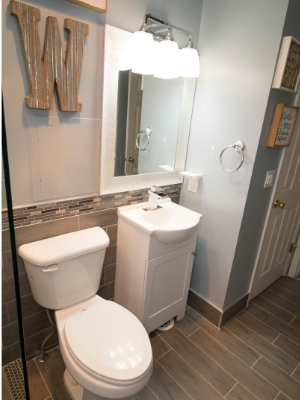 Small bathroom remodeling ideas are very helpful when you are ready to update that little oasis in your home. There are so many options to modernize outdated fixtures, add light, renew old flooring and create functional space in small bathrooms. Change brings new life to even the smallest of spaces in your home.
6 Small Bathroom Remodeling Ideas
Vanity: You have more options with the bathroom vanity than ever. In small bathrooms, storage space is premium. It is essential that the vanity has functional storage space. Open vanities allow for a variety of storage options. Rounded corner vanities also prevent injury in small spaces, providing aesthetics and comfort.
Shelving: Use your wall space. Shelving allows you to have more functional storage for a small space.
Doors: Sliding barn doors eliminate the need for swinging door clearances in tight spaces. The sliding door can be locked, providing the necessary bathroom security for the user. They are both beautiful and functional in tight spaces.
Fixtures: Using smaller toilets and sinks in small bathrooms will give you valuable inches to work with. Fitting the fixtures to the size of the room brings balance.
Lighting: Increasing the amount of light in the room will bring a greater visual depth and feeling of openness. Lighting sets the tone of every space. Smaller spaces always appear and feel larger when there is more light.
Color: The color of a room gives it personality. Lighter and brighter colors add visual space, while darker colors decrease space bringing a cozy feeling. In a smaller space, lighter colors can be enhanced with dark accents to create beautiful focal points.
If you are planning on moving, updating even this small space in your home can be the determining factor in a buyer's mind. Most bathroom remodels give a good return on investment when selling your house.
We design and remodel all sizes of bathrooms to create the look and feel you desire. If this is a space in your home you are ready to remodel, give us a call.